Video meeting, le nuove frontiere del wireless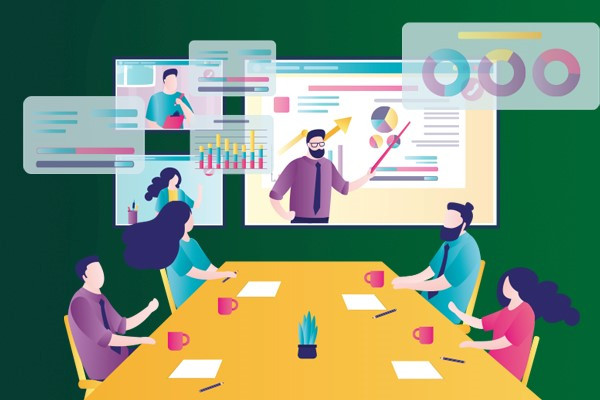 Formula webinar
24/11/2021 alle 11:00
Video meeting, le nuove frontiere del wireless
Trend, tecnologie, servizi. Le opportunità per il canale nell'hybrid workplace
Per informazioni: Kelen Zakelj
kelen.zakelj@soiel.it - 02 30453321
Lavoro, in ufficio o da casa? La risposta a questa domanda per molti è ancora incerta, anche se la tendenza per i prossimi anni sembra essere racchiusa in una parola: ibrido. Un concetto che già si fa strada tra le aziende italiane, chiamate ad adottare soluzioni di unified communication capaci di rispondere in modo puntuale alle nuove esigenze del lavoratore moderno. Il tutto, partendo da quegli strumenti di videoconferenza divenuti ormai essenziali per qualsiasi tipologia di impresa e che ricopriranno un ruolo chiave proprio nella creazione dell'hybrid workplace del futuro.

In questo scenario, system integrator e reseller hanno di fronte a loro importanti opportunità di crescita da cogliere facendo leva su tecnologie affidabili, efficienti e semplici da utilizzare, a partire dalle video wireless solution.

• Quali tecnologie consentono di realizzare video meeting in modo semplice e rapido, a casa come in ufficio?
• Quale valore aggiunto garantiscono in questo contesto le video wireless solution, in termini di velocità di installazione, facilità di utilizzo e qualità delle comunicazioni?
• Quali opportunità system integrator e reseller possono cogliere nell'indirizzare sul mercato italiano le più recenti tecnologie di video communication?

A queste e ad altre domande risponderanno gli esperti di Yealink durante il webinar "Video meeting, le nuove frontiere del wireless", in programma mercoledì 24 novembre a partire dalle ore 11.00.

L'appuntamento sarà l'occasione per conoscere le potenzialità di VCS, la nuova gamma di soluzioni di Yealink che grazie al wireless porta le videoconferenze a un passo ulteriore di evoluzione, garantendo facilità di installazione e semplicità di utilizzo di diverse tipologie di strumenti: microfoni, speaker, webcam e non solo.

Durante il webinar, in particolare, saranno illustrate nel dettaglio le opportunità che sin da ora reseller e system integrator possono cogliere nell'indirizzare sul mercato italiano queste e altre tecnologie, grazie a demo, esempi pratici e sessioni Q&A con gli esperti di Yealink.


La partecipazione è GRATUITA previa registrazione e conferma da parte della Segreteria Organizzativa.
---

WEBINAR

É una diretta streaming a cui è possibile partecipare gratuitamente, previa iscrizione. A partire dalle ore 10:45 del giorno stesso, sarà possibile accedere all'evento online tramite il login alla propria area riservata 'MyPage' sul sito Soiel.
11:00 Benvenuto e Apertura dei lavori
Vincenzo Virgilio, Giornalista - Soiel International
Guido Perozzi, Team Leader UCC - ALLNET.ITALIA

11:05 La nuova modalità di lavoro ibrida: un approccio efficace per combinare le diverse tipologie di lavoro grazie a dispositivi e accessori di un unico brand
Il futuro del lavoro è ibrido, questo è ciò che ci viene detto regolarmente. Per questo motivo le aziende stanno trasformando le loro sale riunioni in collaboration hub.
Scopri le soluzioni di videoconferenza che può fornire Yealink e come orientarsi nella scelta di dispositivi e accessori appropriati per perfezionare l'esperienza dei meeting e ottimizzare la produttività dei team, permettendo la collaborazione faccia a faccia anche a chilometri di distanza e migliorando l'esperienza di tutte le persone coinvolte.
Joyce Lin, Sales manager of VC Solution Dept - Yealink

11:20 Sbarazzarsi dei cavi: soluzioni wireless per la "sala riunioni"
Troppi cavi sopra e sotto la scrivania? Impossibile connettersi con altre piattaforme meeting?
Questi sono oggi alcuni dei punti deboli comuni a molti lavoratori. È quindi fondamentale che le aziende si dotino di una soluzione che si adatta alle loro esigenze.
Le soluzioni di Wireless Video Conference di Yealink sono progettate per alleviare le preoccupazioni che piccole e medie imprese stanno affrontando sempre più frequentemente nel nuovo ambiente di lavoro ibrido.
Joyce Lin, Sales manager of VC Solution Dept - Yealink

11:30 Espandi la tua rete verso un pubblico più ampio, ottieni di più da Yealink Webinar
Con la nuova modalità di lavoro ibrida, il webinar è diventato uno strumento diffuso per connettersi a distanza con il proprio pubblico, con l'obiettivo di insegnare, formare, incontrarsi, fare dimostrazioni di prodotti e soluzioni. Diventa pertanto fondamentale selezionare una piattaforma webinar in linea con le proprie esigenze e adatta allo scopo tra quelli appena menzionati.
Sfruttando risorse tecniche specializzate, Yealink offre una piattaforma webinar con funzionalità avanzate per aiutarvi nel il vostro business.
Yuhan Lan, Sales Engineer of VC Solution Dept - Yealink

11:45 Q&A

12:00 Chiusura dei lavori

Yealink
Yealink is a global brand that specializes in video conferencing, voice communications and collaboration solutions with best-in-class quality, innovative technology and user-friendly experience. Within the past 20 years, Yealink has grown rapidly and has gone public with a market value of 10 Billion dollars.

Why Yealink?
1. Excellent Performance
As one of the best providers in more than 140 countries and regions, Yealink ranks No.1 in the global market share of SIP phone shipments (Global IP Desktop Phone Growth Excellence Leadership Award Report, Frost & Sullivan, 2019) with 29.5% of market share, thanks to its continuous focus on unified communication and core competitiveness enhancement. Nowadays, one in every 500 people on earth owns or is using a Yealink product.
Yealink is committed to helping the clients make the most of their UC experience and embrace the power of "easy collaboration, high productivity".

2. Worldwide Business
So far, Yealink has been entrusted by industry leaders brands or enterprises so much. For example, Yealink is the only Chinese enterprises becoming the strategic partner of Microsoft in global enterprise communication core audio and video. Besides, Verizon, BT, DT and Tesltra, the largest carriers in the US, Europe and Australia, are all Yealink's long-term partners. Moreover, Yealink is also preferred by global customers, including famous brands like Coco Cola, Adobe, and Bosch etc.
Countless prizes and accreditations from international organizations or institutions also prove Yealink's extraordinary performance, which includes ITSPA's latest VoIP Device of the Year Award, Frost's Excellence in Growth Leadership Award, etc. And the latest report from Frost & Sullivan has Yealink Meeting in the Global Leader in video conferencing.

3. Industry-leading Technologies
As an enterprise with strong engineer culture, Yealink has made great efforts in product technology research and development. From the architecture to the platform, from audio and video to AI technology, Yealink strives to provide users with a high-quality audio and video communication experience.
On a global view of enterprise communication manufacturers, Yealink is one of the few manufacturers owning self-developed technologies. The reason why the Yealinkers deep in developing our products instead of directly choosing the mature technology of OEM is to develop new features and products without waiting for the cooperation of external suppliers and improves the efficiency of technological innovation and user experience of a total solution.
Up to now, more than 50% of Yealinkers are engaged in technical and R&D work. The annual growth of R&D investment is over 30%, which is a rare large investment in the industry.

4. Product Innovation
At present, the product layout of Yealink can be divided into three sections, including solution of unified communication, video conferencing and personal collaboration.
Unified communication solution is mainly made up by desktop SIP phones, and committed to satisfying the communication needs of different commercial spaces. The whole product series include basic level business IP Phone, T3 Series; ultra-elegant business IP Phone, T4 Series; smart business IP Phone, T5 Series and conference phone, CP series.
The video conferencing solution is designed to deliver easy and intelligent meeting experience for different spaces from personal desktop to large room. The relevant products include video conference platform Yealink Meeting, cloud-based video conferencing infrastructure Yealink Meeting Server, desktop video phone VP59, and VC terminals for different room sizes and scenarios.
Tailored for personal audio & video collaboration, the personal collaboration solution includes comprehensive product series: CP series speakerphone for crystal-clear desktop audio experience, UVC webcam series for personal video need, WH DECT wireless headset series for redefining personal work-style and wired USB headset for convenient daily communication.
Since 2020, Covid pandemic has changed the market and the way how people communicate with each other. Yealink provides full range of product from personal use to different size of meeting room, to improve the collaboration experience in different using scenario.
As vaccinations continue to progress, the question changes from 'if' to 'when' people will return to the office. Yealink are informing businesses who now have the challenge of working out how they are going to operate in the future.


Yealink Network Technology Co., Ltd
No.1 Ling-Xia North Road, High Tech Park, Huli District, Xiamen, China
Phone number:+86 592 5702000
Fax:+86 592 5702455
Email:
nikita@yealink.com
Website:
www.yealink.com
---
Come partecipare agli eventi
Per informazioni sulle modalità di adesione in qualità di Sponsor o Espositore scrivere a: sponsorship@soiel.it
Le informazioni sulle modalità di adesione come visitatore sono riportare sulla specifica scheda evento